Gregory 'Pappy' Boyington
signed photo / book set
$1195
SOLD
Probably one of the best Boyington collectables I have ever seen!
8" by 10" vintage old glossy b/w photo
dated 1959 on reverse / official defense dept photo
signed to Tex Powell who was a Colonel in the Air Force.
1958 edition of Baa Baa Black Sheep
signed also to Tex Powell by Boyington
and
The Japanese pilot Mike Kawato who was credited with shooting Boyington down


Signed photos of Boyington are extremely rare and hard to find.
see back of photo here
This is the best of the best as far as old photos go!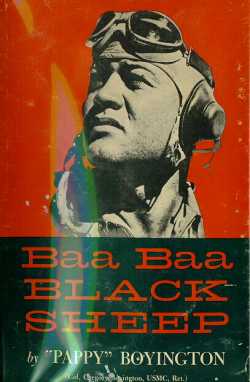 1958 edition of Baa Baa Black Sheep

1958 edition of Baa Baa Black Sheep
signed also to Tex Powell by Boyington

The Japanese pilot Mike Kawato who was credited with shooting Boyington down