Dual Victory
by
Richard Taylor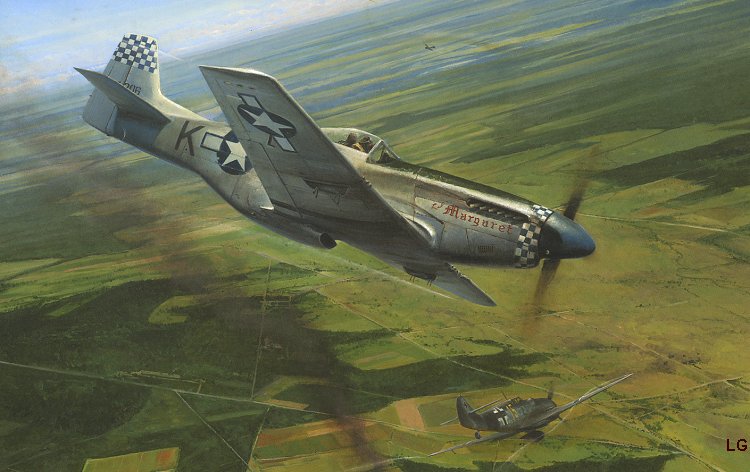 Overall Print Size: 30 1/2" wide x 23 1/2" high
Richard Taylor's Bio
Richard Taylor brings to life a spectacular dogfight over Eisenach on 24 March 1945 when the doughty Clyde East,
returning from a recce over Schweinfurt and with photos already in the can, takes on a group of six Me109's. Flying his legendary
'Lil Margaret, having already dispatched one, he peels round to line up his second Me109 to add two more victories to his remarkable tally.

THE LIMITED EDITION
250 signed and numbered
$150
Joining artist Richard Taylor, Lieutenant Colonel CLYDE B. EAST has authenticated the complete edition by signing each print.

---
THE FIGHTER PILOTS EDITION
$185
150 signed and numbered
Every print in the exclusive FOUR signature edition has been additionally signed by three
P-51 fighter pilots,including two Aces, who flew combat in Europe during WWII.
Lieutenant Colonel CLYDE B. EAST
Lieutenant Colonel ERNEST BANKEY
Colonel ART FIEDLER
First Lieutenant CLINT WHITE