Don Gentile Signed Note
Of 4th Fighter Group Fame
with old b/w 8"by10" photo and newspaper articles
dated 7-13-1944
10 1/2" by 6 3/4"
$1795
Biography of Don Gentile
Died 1/28/1951 KIFA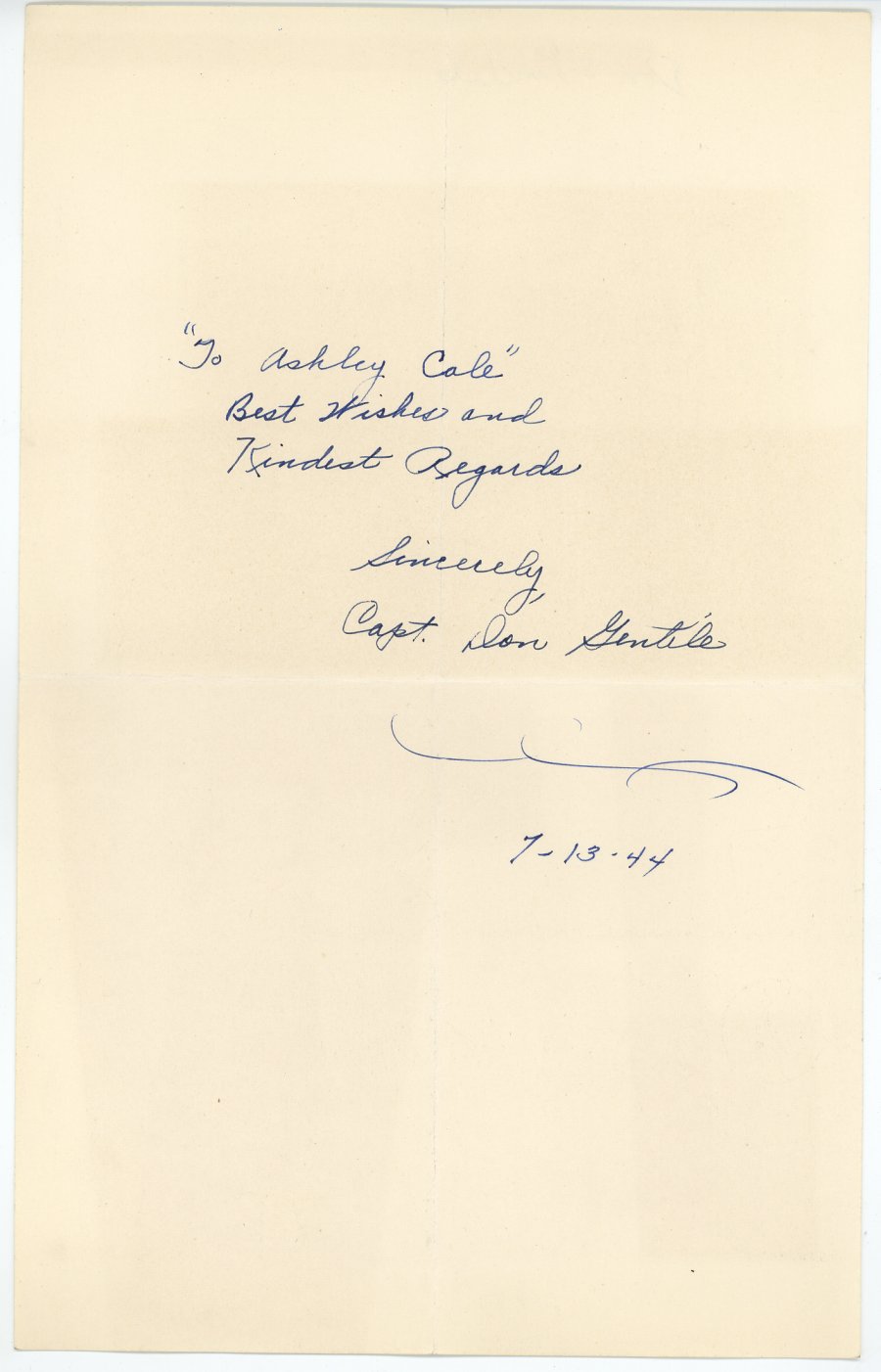 also included below is an original newspaper article from 1944
and a photo of Gentile from an old 1940's Stars and Stripes magazine I believe.
By chance on the reverse of this photo is a great photo of Pappy Boyington!
Ashley Cole was a famous autograph collector in the 1930's thru 1950's
Below is a Gen Wainwright signed letter addressed to Ashley Cole
This letter below does not go with the group and is show for reference only.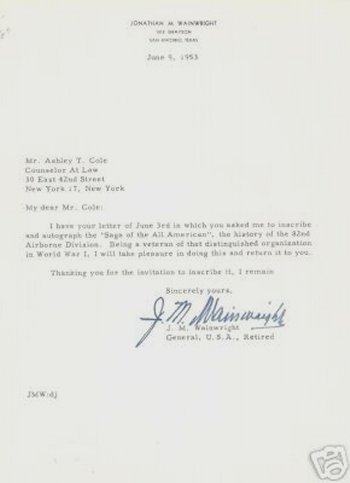 8" by 10" photo of Gentile included
I bought this photo off of a collector and added it to the group.
Here is what he said regarding the photo
"I purchased this photograph collection from an Air Force photographer and archivist who is in his upper 80s. He was a long time photographer for the air force from the 30s to 60s, he also photographed for the United States Muesum of the Air Force and was a photographer for Life Magazine. Most (if not all) of these photographs he took himself. These are his prints from the original negatives. They are printed on very high quality paper (most are printed on Kodak paper) and are at least 30 years old. I do not know the exact date of these photographs, but they are very high quality and were printed for Air Force use. The measurements of this photograph are 8 X 10."
see a signed Don Gentile photo we sold here
Here is a fantastic Don Gentile & John Godfrey signed photo with note we have for sale
Capt. Don Gentile
Don Gentile (Dominic Salvatore Gentile) was born near the Air Force Museum in Piqua, Ohio, on Dec. 6, 1920. He learned to fly in high school, and in 1941, he enlisted in the RAF. He was assigned to combat in 1942 as a member of No. 133 Eagle Squadron. In 1942 when the three Eagle Squadrons were transferred to the AAF as the 4th Fighter Group, Gentile was commissioned a Second Lieutenant and began a fabulous combat career flying Spitfires, P-47s and lastly P-51s.
By April 1944, he was the AAF's leading ace with 27.8* enemy planes destroyed in the air and on the ground. The next month he was ordered back to the United States because of the risk he might be lost in battle. Gentile agreed to take a one month rest from the rigors of combat with the understanding that he would be permitted to return to his unit.
Following his arrival in the United States, however, Gentile was not permitted to rejoin the 4th Fighter Group. Rather, he was permanently assigned to Wright Field as a test pilot until after the war. In 1947 he accepted a commission in the Regular Air Force. On Jan. 23, 1951, this great combat pilot who had survived all the enemy could muster against him, was killed in the crash of a T-33 jet trainer near Andrews Air Force Base, Md. He was posthumously promoted to Major.