Admiral Marc A Mitscher
1887 - 1947
VERY RARE Signed Wartime Document
$995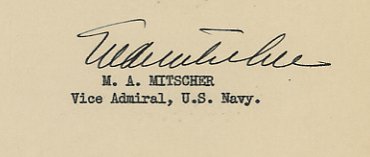 A 1910 graduate of the United States Naval Academy, he was a pioneer Naval Aviator whose early service included
duty as pilot of the NC-1 seaplane during the 1919 trans-Atlantic flight of the NC-4.
He was Captain of the USS Hornet when Pearl Harbor was attacked, and he commanded that aircraft carrier on the Doolittle raids against Tokyo, April 18, 1942, and in the Battle of Midway, June 3-7, 1942. In 1943, he was the overall commander, Fleet Air, Solomon Islands, and was the overall tactical commander of the operations that resulted in the shooting-down the aircraft carrying Japanese Admiral Isoruku Yamamoto on April 18, 1943.
In January 1944, he became commander of Carrier Division 3, which later became Fast Carrier Task Force 58. He stayed in that post, as a Vice Admiral, through the rest of World War II. Welded fast carriers into a fighting team that fought the Battles of Philippine Sea, June 19-20, 1944, and Gulf of Leyte, October 24-25, 1944, and bested the Japanese Kamikazes in the Okinawa Campaign in the Spring of 1945.
He was offered the post of Chief of Naval Operations, but turned it down to become commander of the 8th Fleet and then Commander-in-Chief, Atlantic Fleet, where he served until his death from heart problems on February 3, 1947.

The Lieutenant's name has been blacked out digitally by me
The name is on this original document and will be reserved for the buyer only