Manfred Freiherr von Richthofen
'The Red Baron'
signed Sanke Photo #509
SOLD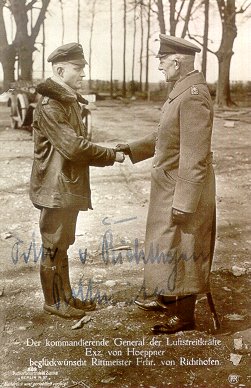 $4395
3 1/2" by 5 1/4" Sanke card # 509
Photo is of the Red Baron accepting congratulations from
Ernst von Hoeppner General of the German Air Strike Forces
The rarest and most desired aviation autograph
A fantastic example of an authentic ink signed original Sanke Photo
see reverse of photo here

---

FLASH
A signed Richthofen NEWSPAPER photo sold for $4,076 in the Feb 21 R&R action.
This price does not include the almost 20% commission so actual price was around $4800.
Now that was a signed newspaper photo with an OK signature and what we are offering is an
original authentic aged ink signed Manfred von Richthofen Sanke card for $4395.
There is another Richthofen in the US being offered for sale but the dealer is selling it for $7,000.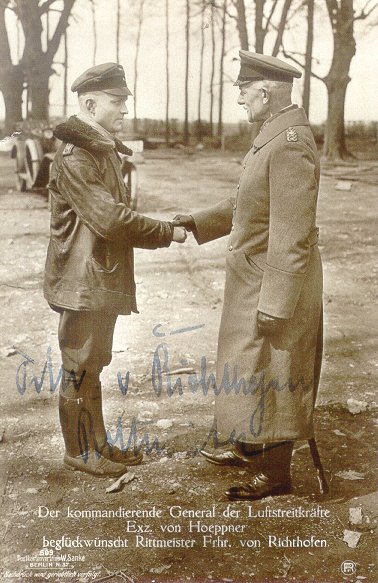 larger image of photo above
Beautifully aged ink signature
signed
Frhr v. Richthofen
Rittmeister