Claire Chennault
b/w photo with signed 4" by 6" paper
$675
SOLD


Vintage (1940's - 50's era) 8" by 10" photo of Claire Chennault.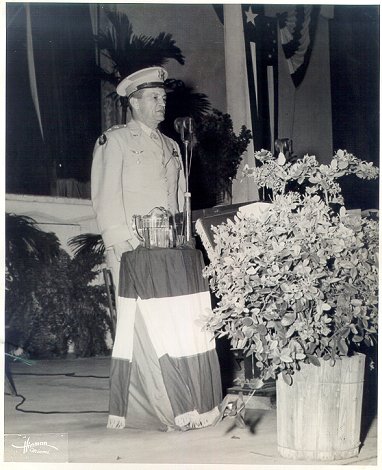 Chennault, Claire Lee (1893-1958), American army officer, born in
Commerce, Texas, and educated at Louisiana State University. In 1917,
during World War I, he joined the U.S. Army Air Corps and pioneered in
aviation pursuit tactics. He was an originator of the idea of using
paratroopers. In 1937 he resigned from the army and became aviation
adviser to the Chinese government, then at war with Japan. For the
Chinese air force he organized volunteer American aviators into a corps
known as the "Flying Tigers." The corps became famous for defending the
Burma Road, the Chinese supply route from India. During World War II
Chennault was recalled to American service as a brigadier general and in
1942 was given command of the China Air Task Force. He became a major
general in 1943, and from 1943 to 1945, when he retired, he led the 14th
U.S. Air Force, as well as the China Air Task Force. After the war he
returned to China and organized a commercial airline, which he later
directed from Taiwan. His autobiography, Way of a Fighter, was published
in 1949.