Lafayette Flying Corps 1983 Reunion Group
In 1983 the 'Last Reunion' for the Lafayette Flying Corps took place in Colorado Springs. Special Medals and Booklets were produced for the event. At the time of the reunion there were only 8 survivors and of that 4 (2 aces) have signed under their picture where it appears in the booklet. WWI signatures are getting impossible to find and to get a grouping like this of one of Americas most famous flying corps is amazing. this group consists of the Medal and signed booklet.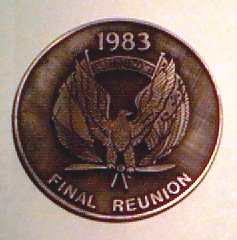 This HEAVY Brass looking Commemorative Medal is 3 1/2" in diameter and 1/4" thick. It comes in it's original presentation box. Medal packed in cotton.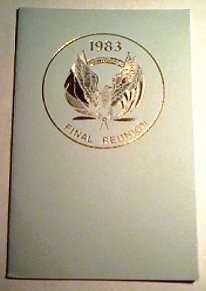 front of Reunion Booklet
In 1983 there were 8 survivors left who flew with the Lafayette Flying Corps. This booklet is signed by four of them they are;
Henry Foster - Escadrilles C74, Spa 102, Spa 15, Br 224
John W. Huffer - 7 victory ace
Charles M. Kinsolving - Escadrilles Br 117 - croix de Guerre with Star
Gorman Defreest Larner - 9 victory ace
$395
SOLD
American Page