Aleksandr Ivanovich Pokryshkin
Black and White Signed photo
Second highest Russian Ace of all time with 59 air victories
$995
He died on November 13, 1985, and is buried in Moscow
Pokryshkin signatures are very rare

See a biography of Pokryshkin here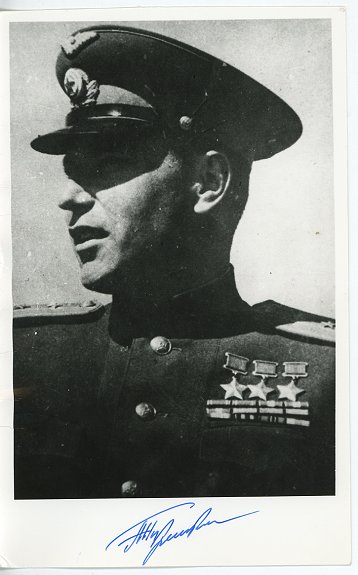 7.5" by 4.75" B/W Signed Photo
see larger scan here
See a signed Pokryshkin note that we sold last year
Handwritten large note (12.25" x 8.5") by A. Pokryshkin addressed to the auditorium
of Moscow State University: This note was cut out of a guest book at Moscow State University.
The note reads:
My dear friends, I wish you success to inculcate yourself in culture of your future profession.
Yours, 3 times Hero of the Soviet Union
Pokryshkin (signature). December 25, 1972.