General Carl Spaatz
Signed Honorable Discharge US Army Document
Dated January 4,1924
Spaatz signed Carl Spatz Major, Air Service
Spaatz changed the spelling of his name from
Spatz to Spaatz in 1937 at his families request
$395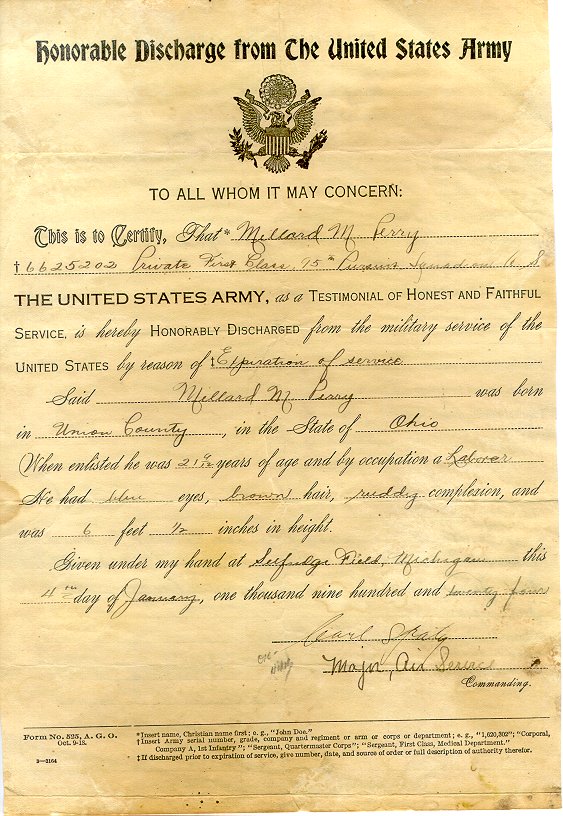 A bit of history on General Carl Spatz below
Carl Spaatz was an army and air force officer. Born on June 28, 1891, in Boyertown, Pennsylvania, Spaatz (originally Spatz - he
added an "a" in 1937) graduated from West point in 1914 and was commissioned in the infantry. After a year at Schofield
barracks, Hawaii, he entered aviation training in San Diego, California, becoming one of the army's first pilots in 1916 and winning
promotion to first lieutenant in June. He advanced to captain in May 1917 and was ordered to France in command of the 31st
Aero Squadron. He organized and directed the aviation training school at Issoudon and by the end of the war had managed to get
just three weeks' combat duty, during which he shot down three German aircraft. In June 1918 he was promoted to temporary
major.
During 1919-1920 he served as assistant air officer for the Western Department; he reverted to captain in February 1920 and
received promotion to permanent major in July. Spaatz served as commander of Mather Field, California, in 1920; as commander
of Kelly Field, Texas, in 1920-1921; as air officer, VIII Corps, in 1921; as commander of the 1st Pursuit Group of Selfridge Field,
Michigan, in 1922-1924; in the office of the chief of the Air Corps in 1925-29; as commander of the 7th Bombardment Group at
Rockwell field, California, and subsequently of Rockwell Field in 1929-1931; and as commander of the 1st Bombardment Wing at
March Field, California, in 1931-1933. During January 1-7, 1929, Spaatz and Capt. Ira C. Eaker established a flight endurance
record of 150 hours, 40 minutes, in a Fokker aircraft, the Question Mark, over Los Angeles. After two years as chief of the
training and operations division in the office of the chief of Air Corps and promotion to lieutenant colonel in September 1935, he
entered the Command and General Staff School, Fort Leavenworth, Kansas, graduating in 1936. He was executive officer of the
2nd Wing at Langley Field, Virginia, until 1939 and then again joined the staff of the chief of the Air Corps. After a tour of
observation in England in 1940 he was promoted to temporary brigadier general and named to head the material division of the Air
Corps, and in July 1941 he became chief of the air staff under Gen. Henry H. Arnold, chief of the (renamed) Army Air Force.
In January 1941 he was appointed chief of the Air Force Combat Command. Later in that year he returned to England to begin
planning the American air effort in Europe. In May he became commander of the Eighth Air force, and in July he was designated
commander of U.S. Army Air Forces in Europe. In November he went to North Africa to reorganize the Allied air forces there
for Gen. Dwight D. Eisenhower, becoming commander of the Allied Northwest African Air Forces (NWAAF) in February 1943.
In march he was promoted to temporary lieutenant general. from March to December 1943 he was also commander of the
Twelfth Air Force, a unit of the NWAAF, which took part in both the North Africa and Sicily campaigns. In January 1944 Spaatz
was named commander of the Strategic Air Force in Europe; his command included the Eighth Air Force under Gen. James H.
Doolittle, based in England, and the Fifteenth Air Force under Gen. Nathan F. Twinning, based in Italy, and had responsibility for
all deep bombing missions against the German homeland. In March 1945 he was promoted to temporary general, and in July, war
in Europe having ended, he took command of Strategic Air Force in the Pacific. the atomic bombing of Hiroshima and Nagasaki
took place under his command.
In March 1946 he succeeded Gen. Arnold as commander in chief of the Army Air Forces, and he became the first chief of staff
of the independent air force in September 1947. He held that post until retiring in July 1948 in the rank of general (he had been
permanent major general since June 1946). He served subsequently as chairman of the Civil Air Patrol and for a time contributed
a column to Newsweek magazine. Spaatz died in Washington, D.C., on July 14, 1974.
From Webster's American Military Biographies, Merriam Co., 1978. 497p., Carl Spaatz, pp. 404-405.